NCAA Final Four Court Cam
After successfully delivering the 'Outfield Cam' for the MLB NLDS, in 2015 Moose Exhibits was asked to develop the trolly system for the NCAA Final Four. Our system is designed to integrate with the stage that supports the court and allows the 'Court Cam' smooth operation for the high viewership national broadcasts. Slam Dunk and now we provide this delivery system for the next several years.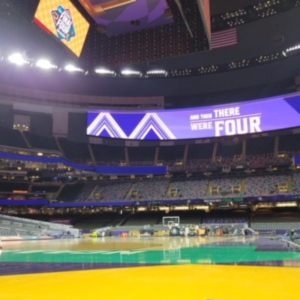 M&M Mars marketing agency wanted to put together a road show for all the employees in every factory in the United States. Sweet! Who doesn't love M&M's right? Along with safety concerns, power issues, reconfigurations for space, etc, Moose Exhibits developed a self contained road show including battery operated televisions.
Moose Exhibits was awarded the Novo Nordisk Diabetes Awareness Road Show. These outdoor events took place at major landmarks and events across the United States from Bryant Park in NYC to the USTA finals.
For ConEXPO Snorkels outdoor space included a 30 x 40 double deck enclosed structure. The lower lever were meeting areas while the upper level, managed by Moose Exhibits, was to be a daily full service, chef catered lunch on china with a 1 hour conversion window to a fully stocked bar for happy hour and daily post-show entertainment.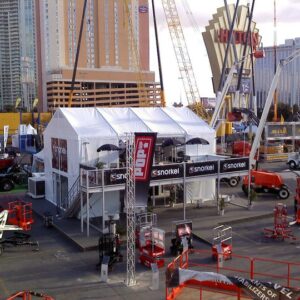 Oh BABY! For 10 years Moose Exhibits was the in-house service provider for the American Baby Baby Faire, and experiential marketing event for major US brands by American Baby Magazine. The event was for new and expecting mothers that took place in 7 US cities annually. Our responsibilities were to assure the association products and graphics were in-place and on-time while being an on-site resource for exhibitors to move freight from show-to-show, provide marketing advice and supply displays and graphics when needed. Clients included: Chicco, Mead Johnson, Nestle, Gerber.
NYC Food & Wine Festival. (Coca Cola)
Coca Cola had (2) high visibility areas at the NYC Food & Wine Festival. A 40 x 40 product demo area and a 20 x 30 'Entertainment' area. These high energy consumer events are in constant motion. Regardless of the challenges, it was always a 'Coke and a Smile'.

Every Day with Rachael Ray
An Atlanta event held at Atlantic Station, Every Day with Rachel Ray was another faced paced, high energy outdoor event. Branding, lighting and movie screens were all on the menu.
POWERADE Fan Experience 2020 NCAA Final Four. -Atlanta
A bittersweet 180' x 78' interactive fan experience created for Powerade at the 2020 Final Four in Atlanta. Unfortunately just days before the event, during set-up, the entire Final Four event was canceled due to COVID- 19. This fan experience design included a full active 1/2 basketball court, a suspended LED Powder-coated "Court" (lines) suspended from the ceiling of the Georgia World Congress Center, 50' video wall, 'Laser Room" as well as a full Powerade refreshment area for fans to enjoy in the days leading up to the Final Four and National Championship in Atlanta.