WE'LL HELP YOU MAKE YOUR NEXT TRADE SHOW SETUP EASY AND HASSLE FREE
Transform Your Vision into a Brilliant Exhibit Experience with Moose Exhibits
Experience the transformative power of stunning trade show displays rentals by partnering with Moose Exhibits. Our team of experts is dedicated to bringing your vision to life and creating an unforgettable exhibit experience that captures your brand's essence and leaves a lasting impression on attendees.
Moose Exhibits is a leading provider of trade show display rentals in Atlanta, we offer a wide range of premium exhibits that are sure to enhance your booth and captivate your audience. With our top-notch displays, you can effectively showcase your brand, products, and services, leaving a lasting impact on potential customers.
Save Time & Money
→ Streamlined experience
→ Increased ROI
→ Enjoy savings up to 38%
Flexible & Scalable
→ Flexible in format and design
→ Highly customizable
→ Reconfigures for budget and space

Reduce Stress
→ We'll take your pain points from HASSLE to HANDLED
→ Letting you focus on your customers and relationships
→ Allows peace of mind
Creative Design, Effective Expo Display Solutions
Our innovative Fresh New Look program does not require you to buy an exhibit, eliminating ownership costs while offering affordability, scalability, reliability and the assurance that comes with EDPA Certification.
Renting a customized exhibit can be easier, more convenient + economical, and allows for flexibility in format and design! This program will increase your brand exposure and improve your communications with an exhibit that is available when, where, and how you need it.
An eye-catching, engaging trade show displays rentals can help you meet your goals and bring your brand to life. Just Show Up and Show Off. Small, medium, or large, go from Concept-to-Compeltion with ease. Take stress out of the equation — let us handle your exhibit rentals allowing you to focus on making valuable show floor connections.
Your Goals:
Make exhibiting easy and still have an eye-catching custom trade show exhibit
Maximize client interaction, build stronger relationships, and close more deals
Keep costs down by lowering operating costs
Our Solutions:
Design trade show booth rental specifically targeting your ROI goals
Provide multi-show packages, regardless of size or layout, designed to save money
Lighter weight modular systems to lower on site costs of Material Handling and Labor
Flexible trade show exhibit rental program can reconfigure for multiple shows to maximize your presence at EACH event
Project management and experienced on-site supervision
Turnkey display rental, logistics and on-site services streamlines the process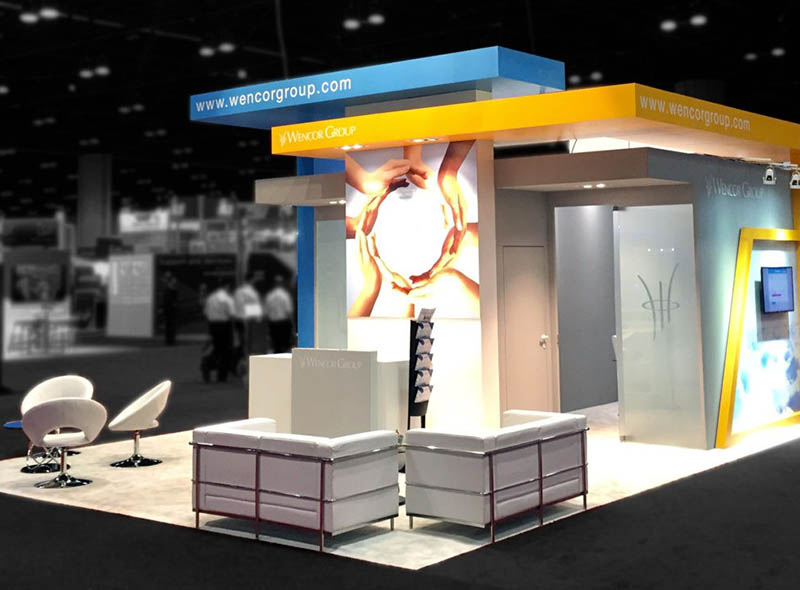 What Makes Moose The Company You Keep?
Whether it's your first show or your fifty-first show, your success is our #1 priority, backed by our hard-work, dedication, passion, and experience! We take a consultative approach to understand your strategic goals and objectives and what roles trade show have in meeting + exceeding those goals!
We understand the stress points of trade shows! Understanding compliance, shipping, setup, install/dismantle, and dealing with labor unions can be stressful! With our 20+ years experience this process goes from HASSLE to HANDLED, leaving you to focus on what you do best!
Serving the Atlanta Area and Beyond – Trade Show Display Rentals for Every Industry
Our expertise in trade show display rentals extends far beyond our home base of Atlanta. With a network of partners across the country, we are well-equipped to serve businesses in a variety of industries, no matter the location. Reach out to our team today to learn more about our trade show display rental options and how we can help make your next event a success.
Why Choose Trade Show Displays Rentals?
Trade show display rentals provide a cost-effective and flexible solution for businesses of all sizes. Whether you're a startup, a small business, or an established company, renting trade show displays offers several advantages:
Versatility: Our extensive inventory includes a variety of display options to suit your specific needs. From pop-up displays to table-top displays and custom exhibit backdrops, we have the perfect solution to match your booth size and style.
Customizability: Stand out from the crowd with our customizable trade show displays. Our team of experienced designers will work closely with you to create a unique and eye-catching booth that aligns with your brand identity and objectives.
Budget-Friendly: Renting a trade show booth is a cost-effective option compared to purchasing one outright. By choosing our rental service, you can allocate your budget towards other marketing initiatives while still enjoying a high-quality display.
Hassle-Free Experience: We take care of the logistics, transportation, and setup of your rented display, allowing you to focus on your trade show preparations. Our dedicated team ensures a seamless experience from start to finish, so you can concentrate on making valuable connections with potential customers.
Goals : When selecting a trade show display, it's important to consider your goals for the event. Are you looking to attract new customers, promote your products or services, or simply increase brand awareness? Defining your objectives will help determine the type of display that's best suited to your needs.

Brand Identity: Your trade show exhibit should align with your brand identity and convey your message effectively. When designing your display, think about your brand's style and message. It's important to work with an exhibit maker who understands your brand and can assist you in creating an exhibit that reflects it. Your exhibit should be eye-catching, memorable, and consistent with your brand's identity.
Some of our happy clients.
As stated, each company will continue to operate independently, maintaining control over its original client base, thus assuring the same familiarity administratively, while bringing greater benefits in fabrication and delivery.